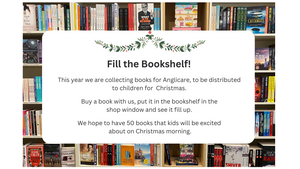 If you would like to help us reach our goal of 50 books for kids this Christmas, select a book and add it to your cart as normal. On the 'cart' page there is a notes section, please indicate in this box which book(s) you would like us to put in the donations bookshelf.
The Book And Paper Way
Books can take you to places you have never dreamed of, they can soothe the soul, teach us, offer sanctuary, or simply give you a good laugh. As lovers of books we like to encourage others to enjoy them as much as we do. We provide a wide variety of titles allowing our customers to have the opportunity to find that perfect book.  We strive to achieve this by hand-picking our books and by giving one on one assistance to those who need that extra bit of help when making a choice may be a challenge. 
Book and Paper acknowledges Aboriginal and Torres Strait Islander peoples as the traditional custodians of Australia, and the people of the Kulin Nation as the traditional custodians of the place we now live and work called Melbourne.
This shop is a feast for the senses! I am always tempted to buy at this shop and the service is fantastic; friendly, helpful and knowledgable.

Deb, Newport
I only go here as a treat because I always end up spending more than I planned. For a small shop there is a lot there and the staff actually really know their books.

Rose, Williamstown
I go here to find those perfect little literary treasures and gifts.
Wonderful wrapping options and stunning cards for all types.
Also for parents. This place has a wonderful children's section.

Mia, Yarraville